Why Male Athletes Who Identify as Transgender Should Not Compete in Women's Sports – ALLIANCE DEFENDING FREEDOM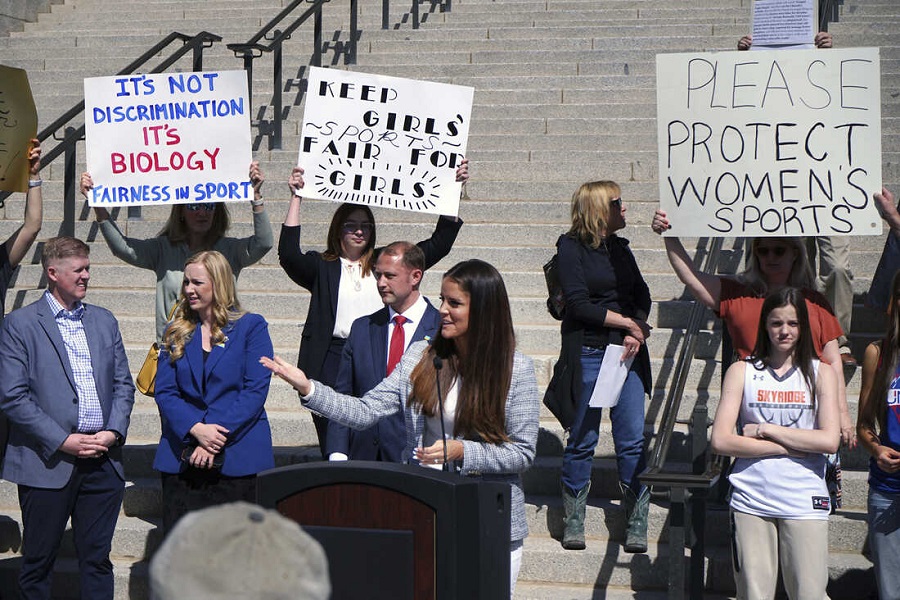 Should transgender athletes compete in women's sports? Here's why males will always have an advantage over females in athletics.
Written by Maureen Collins
Should male athletes who identify as transgender compete in women's sports?
If you've listened to any major news outlets recently, you'd hear a resounding "yes." Athletes who identify as—then compete against—the opposite sex are often celebrated in the media.
Collegiate athlete Lia Thomas, a male swimmer from the University of Pennsylvania, was applauded after winning the NCAA women's championship in the 500-yard freestyle in March 2022. CeCe Telfer, a male runner, was similarly commended after winning the NCAA Division II national championship in the women's 400-meter hurdles in 2019. And the media cheered as Laurel Hubbard, a 43-year-old male weightlifter from New Zealand, became the first athlete to compete against the opposite sex in the Olympics during the 2021 Tokyo Games.
You'll notice that all these athletes have one thing in common: they are all males competing in women's sports. It's not often that you hear of a controversy involving female athletes competing in men's sports. And the reason for that is simple and obvious: males have a physical advantage over females in athletics.
But those who simply state this truth are often met with vile attacks online and in the media. That's because the fact that men and women are different and have different strengths and weaknesses has become taboo in our culture today. But this difference isn't a bad thing—and it's necessary that we recognize it to preserve the integrity of women's sports.
Below, we'll unpack why male athletes have immense physical advantages over female athletes and how women are harmed when they are forced to compete against men.
Is it fair for males to compete in women's sports? Here's the science.
Is it fair for male athletes to compete against female athletes? No. And that answer isn't just based on common sense—the science is conclusive.
Some activists claim that males who receive cross-sex hormones and artificially lower their testosterone levels should be allowed to compete against females. But recent studies have proven that these methods do not negate the performance gap between the sexes. Forcing females to compete against males strips them of their right to a fair playing field.
An expert report by Dr. Gregory A. Brown, an exercise science professor at the University of Nebraska, sheds some light on how policies that allow men to compete against women harm female athletes.
Dr. Brown cites research showing that allowing males to compete against female athletes in track and field could allow "many who would not be considered top tier male performers" to replace the world's most skilled female athletes on the podium. For example, in 2017 alone, well over 5,000 males, including some under 18 years old, ran 400-meter times that were faster than the personal bests of U.S. Olympic gold medalists Sanya Richards-Ross and Allyson Felix.
Dr. Brown's report shows that policies allowing males to compete in women's sports would do even greater harm to female athletes in a variety of other sports.
Similarly gifted and trained males have physical advantages over females—from greater height and weight and larger, longer, and stronger bones to larger muscles and higher rates of metabolizing and releasing energy. These innate physiological traits result in greater muscle strength; stronger throwing, hitting, and kicking; higher jumping; and faster running speeds for males, all of which create an athletic edge over females.
For example, despite greater body weight, males have a roughly 15-20 percent jumping advantage over women. When examining the vertical jump needed in volleyball, one study found that on average male players jumped 50 percent higher during an "attack" at the net than female players.https://www.instagram.com/p/CuE-Rj9ttsC/embed/?cr=1&v=14&wp=540&rd=https%3A%2F%2Fadflegal.org&rp=%2Farticle%2Fwhy-male-athletes-who-identify-transgender-should-not-compete-womens-sports#%7B%22ci%22%3A0%2C%22os%22%3A2495.699999809265%2C%22ls%22%3A318.69999980926514%2C%22le%22%3A2086.5999999046326%7D
Even if male athletes are receiving androgen inhibitors and cross-sex hormones, it will not reverse the distinct advantage males have over females.
In another report, Dr. Brown elaborates: "[I]t is obvious that some effects of male puberty that confer advantages for athletic performance—in particular bone size and configuration—cannot be reversed once they have occurred." He goes on to demonstrate how puberty creates height and mass differences that provide a significant athletic advantage for males. And no amount of testosterone blockers can compensate for that advantage.
Dr. Brown also cites five separate studies to further prove this point. One study was even conducted by researchers who were sympathetic to transgender ideology. But despite the researchers' personal opinions, the scientific facts required them to recognize that the irreversible physical differences between males and females "provide a strong argument that [males] have an intolerable advantage over [females]."
For the past several decades, female athletes have seen their opportunities grow steadily. The average number of collegiate women's sports teams has more than tripled since Congress passed Title IX of the Education Amendments of 1972.
And in that same time span, women have also been given the opportunity to compete in more events at the Olympics. In fact, many of America's most famous Olympic athletes are women, such as Serena Williams, Simone Biles, and Katie Ledecky.
But Dr. Brown's research shows that if female athletes are forced to compete against males, even these Olympians would not have a fair chance to compete. And young girls would never get the opportunity to fulfill their dreams, no matter how hard they work.
Title IX and the history of women's sports
In today's world, it's difficult to imagine that there was a time when women and girls didn't have many opportunities to play sports.
But before the 1970s, the concept of women's sports was not widespread at all. In fact, sporting events for girls were almost nonexistent. During the 1971-1972 school year, only 7 percent of high school athletes were girls. In the 2010-2011 school year, by comparison, girls made up over 41 percent of all high school athletes.
So, what changed after 1972?
Congress passed Title IX—a piece of legislation intended to give women and girls equal opportunities in education. Since its passage into law, women have been given exponentially more opportunities to play organized sports.
Title IX changed the game and opened many new opportunities for women and girls.
Males have taken titles from female athletes
Scientific studies are a great resource in showing that males have a biological advantage over females in athletics, but we don't need a study to tell us just how discouraging it is for female athletes to compete and lose to males.
Since 2017, the Connecticut Interscholastic Athletic Conference (CIAC) has allowed males who identify as girls to compete in high school women's sports, putting female athletes at an automatic disadvantage in their own sports.
Selina Soule is one such athlete. Selina is a dedicated sprinter. When she competed in high school, she devoted countless days, nights, and weekends to train in order to shave mere fractions of a second off her race times. She trains to win. But when she stepped up to the starting blocks at the beginning of a race, she knew that the odds were against her.
Since the CIAC's policy change, male athletes who identity as female won race after race, collecting state titles along the way. In fact, since the CIAC changed its policy, two male athletes have taken 15 state titles that were previously held by nine different girls in 2016.
Here are just a few of these championship titles:
At the 2018 CIAC State Open Championship, two males took first and second place in the women's varsity 100-meter dash.
At the 2019 Indoor Track Championship, a male athlete won both the women's 55-meter dash and the women's 300-meter dash.
At the 2019 CIAC Combined State Open Championship, a male athlete won the women's 200-meter dash.
Beyond the state level, one of these male athletes went on to win the women's 200-meter dash at the 2019 New England Interscholastic Track and Field Championships.
It shouldn't be surprising that male athletes can outrun female athletes.
What is surprising is that officials from the CIAC are allowing males to deprive so many girls of the championship titles they've trained so hard to achieve. They're stripping girls of opportunities—not just on race day but for their future college scholarships, athletic careers, and more.
After months of training for the 55-meter dash, Selina placed just one spot away from qualifying for the final and a chance to compete for a spot in the New England regional championships, where many college scouts attend.
Two male athletes had taken first and second in that race. Had they not been permitted to do so, Selina likely would have competed at the regional championships in front of college scouts.
States are passing bills addressing transgender athletes in women's sports
Selina is far from the only female athlete who has been forced to compete against males. And Connecticut is far from the only state where this is happening.
Thankfully, many states are taking a stand for fairness in women's sports. States including Mississippi, Montana, Arkansas, and Florida passed legislation that keep males from competing against women.
For example, in 2020, Idaho passed the Fairness in Women's Sports Act. This law ensures that only females are competing in sports designated for girls and women.
Shortly after Idaho passed the Fairness in Women's Sports Act, the American Civil Liberties Union filed a lawsuit. It is attempting to strike down the law and subject female athletes to unfair competitive conditions that prioritize gender ideology over biological realities.
Similarly, in 2021, West Virginia passed a law to protect athletes like Lainey Armistead. Like Selina, Lainey has been fiercely dedicated to her sport since childhood—in her case, soccer. "I have made many sacrifices over the course of my athletic career to play the sport that I love," she explains.
But soon after West Virginia passed this commonsense law to ensure a level playing field for athletes like Lainey, the ACLU sued yet again. Alliance Defending Freedom filed a motion to intervene on behalf of Lainey.
Thankfully, in January of 2023, a federal district court granted summary judgment in favor of Lainey and dissolved the preliminary injunction that was initially put in place, allowing the Save Women's Sports Act to go fully into effect.
But the ACLU appealed to the U.S. Court of Appeals for the 4th Circuit, which granted a temporary injunction to allow a young male athlete in West Virginia to compete against women while the case is on appeal.
ADF is now asking the Supreme Court to reverse the 4th Circuit's injunction and make it clear that West Virginia is free to allow only female athletes to compete in women's sports.
Athletic events that allow males to compete against women
Men and women are not interchangeable. It's a fact of both science and common sense that they differ in many ways. And when males who identify as female are permitted to compete in women's sports, it is women and girls who suffer.
Female athletes in contact sports face safety risks when they are forced to compete against males. And women and girls across the board will see their athletic and academic opportunities limited. They will be stepping up to compete knowing that they do not have a fair chance to win. And for many women, athletics are their best bet for a college scholarship.
Below is a list of 25 different sports leagues and conferences that have allowed males to compete in women's sports.
And this list is likely not even exhaustive.
We cannot pretend this isn't happening.
The end of women's sports?
While some female athletes have taken a brave stand for fairness in women's sports, many others have been hesitant to speak out. And it's no wonder why.
Those who dare to question whether males should be allowed to compete against females are ridiculed and bullied. Activists lashed out against tennis legend Martina Navratilova when she wrote that it's "cheating" for a man to compete as a woman.
Likewise, when Selina and other female competitors have voiced their criticism, they have been portrayed as sore losers.
Since when does speaking the truth make you a sore loser?
It is a physiological fact that men and women are built differently. Men have more muscle mass and a higher bone density, making them physically stronger than women.
And as Navratilova pointed out, "Simply reducing hormone levels — the prescription most sports have adopted — does not solve the problem. A man builds up muscle and bone density, as well as a greater number of oxygen-carrying red blood cells, from childhood. Training increases the discrepancy."
No amount of training can change the fact that males have a physiological advantage over females in most sports.
That's why we have separate men's and women's sports. But somehow, the line between the two is becoming increasingly blurry. And women and girls are suffering the consequences.
Image
Contributing Writer
Maureen Collins served as Web Editor and SEO Manager at Alliance Defending Freedom.
https://adflegal.org/article/why-male-athletes-who-identify-transgender-should-not-compete-womens-sports